International Justice Mission
is a global organization that protects the poor from violence in developing countries. IJM's global team includes hundreds of lawyers, investigators, social workers, community activists and other professionals at work in nearly 20 communities. They partner with local authorities to rescue victims of violence, bring criminals to justice, restore survivors, and strengthen justice systems.
IJM works to combat violence including sex trafficking, forced labor slavery, illegal property grabbing, police abuse of power, child sexual assault, and citizenship rights abuse.
The organization has field offices in 18 communities in South and Southeast Asia, Latin America, and Africa. IJM has a workforce of 600+ globally, approximately 95% of whom are nationals of the countries in which they serve.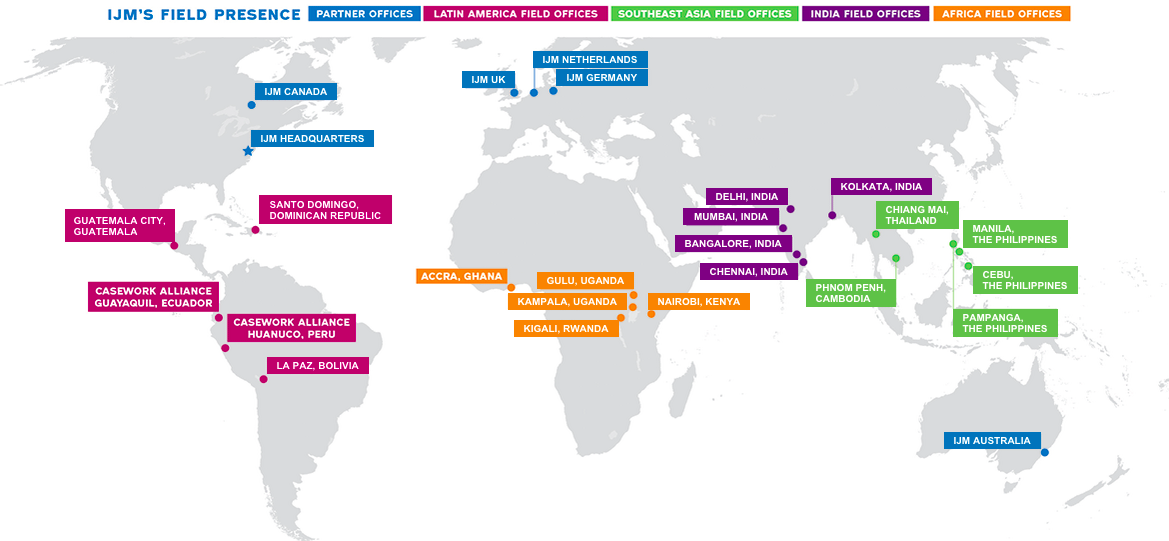 IJM was founded in 1997 by Gary Haugen, the current president and CEO of the organization. Haugen has been recognized by the U.S. State Department as a Trafficking in Persons "Hero" – the highest honor given by the U.S. government for anti-slavery leadership.
They have a unique multi-year model called Justice System Transformation through which they seek to protect people from violence. Their vision: Rescue thousands. Protect millions. Prove that justice for the poor is possible. The organization has rigorously studies the results of its efforts as a feedback mechanism to ensure higher efficiency.
The fear of violence and the terror that it causes for the poor people needs to be addressed. It is a part of their daily life. It is as closely related to poverty as is hunger, disease and homelessness. The reason that the poor are considered to be the most helpless and vulnerable is fundamentally because of the justice systems- police, courts and laws, rather a lack of access to these judicial systems. According to the UN Commission on Legal Empowerment of the Poor, justice systems in the developing world are so broken that the majority of poor people live life far from the law's protection.

"Independent evaluation has demonstrated that after four years of IJM partnership with local law enforcement in Cebu, Philippines, the availability of minors for sex decreased by a stunning 79%." —U.S. State Department Trafficking in Persons Report 2012
IJM has had phenomenal results. Since 2006, IJM has rescued more than 19,000 people from violence and oppression, and has secured the convictions of more than 800 violent criminals. Furthermore, through its work in strengthening local justice systems, IJM is helping to protect 21 million people from violence globally.
The latest figures and stories from the IJM 2013 Annual Report state that in that year, 3,555 children, women and men were brought to safety through IJM's work with its local partners. Out of these, 2,266 were freed from forced labor slavery by IJM and its trained field partners in India; 239 rescued from sex trafficking in India, Cambodia and the Philippines; 131 child survivors of sexual assault now safe because IJM intervened in their cases in Latin America, Africa and Southeast Asia; 400 widows and orphans had their property rights secured in Uganda and Zambia; 471 hill tribe people secured legal proof of their rightful citizenship in Thailand—critical to protecting them from violence; 43 innocent men and women were set free from prison in Kenya.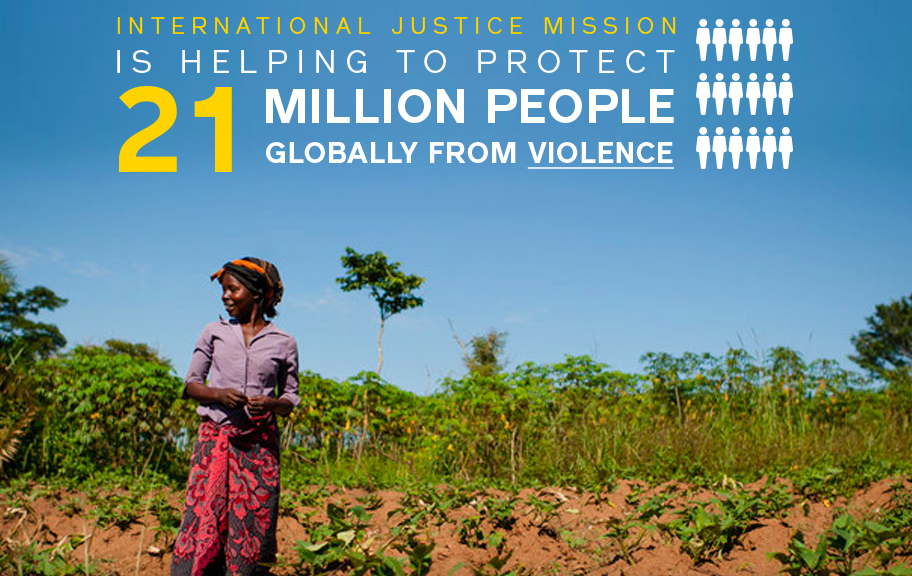 Apart from this IJM is recommending for the United Nations to include "protection from violence" as a key goal for eradicating poverty and ensuring human rights extend to all the future Sustainable Development Goals.
Head over to
this
page to get involved in the noble activities of International Justice Mission. You can donate directly, volunteer and help fundraise among others.
Sources: