In the United States (US), police are continuing to raise concerns. It looks as if the US police always want to be in the news for the wrong reasons. From killing unarmed black men, abuse and harassment, the police have now turned their attention to children.
A new disgusting video has emerged online, in which a police officer in New York, is seen holding a number of teenage kids at gunpoint for throwing snowballs at each other. Yes, you are reading right. The children were only having a snowball fight with each other, and that warranted the police officer to point a gun at them as if they were criminals.
In the video, the kids can be seen kneeling helplessly on the ground, very afraid, as the officer continues his unacceptable action. Although not that clear, a second officer seems to be standing with the nearby police patrol car, but did nothing to stop his colleague from abusing the children.
In the video, the police officer can be heard telling the children, with all seriousness, at the top of his voice "Don't fucking move, guys!" The children, so confused and afraid, can be seen panicking as they feared something bad might happened to them. The officer then frisks them with one hand and aims the gun with the other, like he is ready to pull the trigger.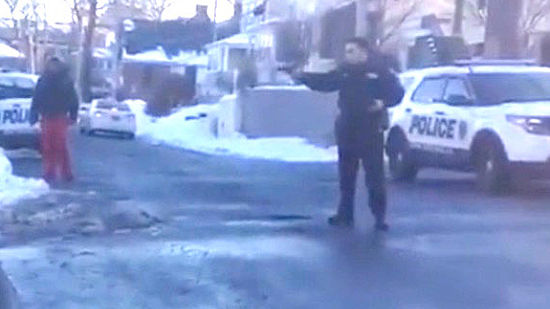 The video was said to have been secretly recorded by an Anonymous person, who explained that "they were having a snowball fight. This group of guys was having a snowball fight and now a cop has a gun on them".
Many who have watched the video, have condemned the action of the police and are calling for an independent investigation into the incident. Children rights groups say, even if the officer wanted the children to stop the snowball fight, he should have done that without even thinking of using his gun.
The officer acted so unprofessionally. The gun given to him by the nation is meant to protect citizen, not frighten them. These children were simply partaking in a harmless snowball fight, there was absolutely no cause for the officer to draw his weapon.
We have obtained the video. You can watch it and judge the actions of the police officers yourself. For us, the video is disturbing and further investigation should be conducted by the New York Police Department, to identify and question the officer. It is important to determine his reasons for acting unprofessionally, in order to serve as a deterrent to other officers. He should not get away with it, no matter how long it takes for him to be identified.
VIDEO
||
http://www.liveleak.com/view?i=768_1422735565